Hedge Trimming: Cedar Hedges, Laurel Hedges, Holly Hedges, Boxwood Hedges, Yew Hedges and more!
If you are in the Vancouver area, then you know that we have fast growing hedges that seem to grow like crazy. If you have decided that trimming your cedar hedge ortrimming a laurel hedge is something best left to a professional, let us help you and be your annual hedge trimming professionals.
The four most common fast-growing hedges in Vancouver are all ones you are probably very familiar with:
 Emerald Cedar – Thuja occidentalis 'Smaragd'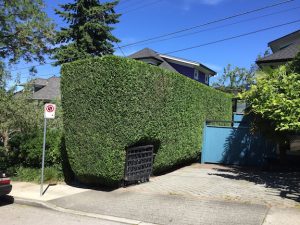 Grows to 3 meters tall (10 feet). Solid green colour with quite a narrow shape. Does not have unattractive winter seed pods. One or two trimmings per year to be expected. Plant 2 feet apart. Grows over one foot per year. Does best when oriented north-south. If planted in an east-west line, the north side will be shaded out and get thin over time. Needs sun for best look.
Brown's yew – Taxus media 'Brownii'
Grows to 2.5 meters (8 feet). Broad columnar tree with upright branches. If you have a shady area this is a great hedge plant option. This male variety does not produce seed pods which are toxic. Requires little maintenance with 1 trimming per year once grown. Plant 1.5 to 2 feet apart.
English Laurel – Prunus laurocerasus
Grows to 5 metres (15 feet) if not trimmed. Deep green colour with shiny, reflective broad leaves. The English Laurel hedge is an excellent option as you can keep the laurel hedge at any height. This fast growing hedge grows in average soils and does well in sun or shade. Considered a fast-growing hedge with up to 2 feet per year of new growth. Plant 1.5 feet apart.
What you get with your Hedge Trimming Service:
Professional service
Commercial machines
Detailed, tidy clean up of clippings
All debris removed from your property
Uniformed landscaping staff
Trained horticulturists, landscape technicians and certified arborists working on your property
Benefits of Hedge Trimming:
Keep your hedges clean, tidy with straight lines
Train hedges to grow how you want them
Keep unwanted growth away from house walls, eaves and gutters
Prevent hedge from getting too wide with regular service
Call 778-323-1502 for a free estimate