Spring Garden Clean Up
Spring clean up of your yard can be a massive task.  And though the work itself can be done in a day, it's often the clean up and removal of all the old material that can be the hardest part of the job!  We would like to help you to quickly complete your spring garden clean up and with the help of certified landscape professionals.
Spring garden clean up: yard services that are basic essentials include:
Trimming all hedges
Weeding garden beds
Installing composted bark mulch
Pruning shrubs, pruning back bushes and trees that overhang the lawn areas and up-pruning shrubs for easy raking
Raking lawns and garden beds of leaves and debris
Edging cement borders of lawns
Edging garden borders of lawns
Blowing pathways and sidewalks
Raking debris out of lawns (fallen leaves, branches etc.)
Contact us today so that we can come by and create a free estimate for your garden's one day spring clean up.
​
Fall Garden Clean Up
The Summer has come and gone and has left your garden in need of cutting back, tidying up, leaf removal and preparing for winter.
Fall yard clean-ups present a great time for preparing your garden for the winter.
Take steps in the fall to reduce winter issues and save money, including:
Cutting back perennials
Hedge trimming for a tidy look all winter long
Cleaning up dropped leaves or pine needles
Mulching the garden to protect plants
Applying fall lawn fertilizer, for huge spring improvement
Cutting trees that won't withstand winter winds and storms
Cleaning out drains and draining out your irrigation system
Pressure washing sidewalks and driveways to stop mildew and mold
Gardening
Garden clean ups are a specialty of Higher Ground Gardens. Do you want a highly detailed clean-up of your gardens? Our yard clean up service includes pruning, weeding, debris removal, bark mulch installation, lawn edging to fit the needs of your landscape. You can expect a top quality, estate worthy garden clean up from Higher Ground Gardens.
Get ready for big events and holidays with a garden clean up and planting service to add colour to your gardens before a big celebration. Our clients have hired us to get their gardens "party ready" for weddings, holiday parties, Rosh Hashana, Christmas, New Year's, birthdays and real estate listings.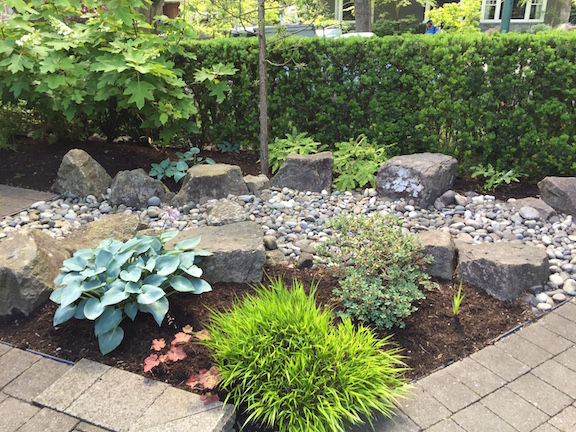 Garden Cleanup
Spring and Fall Garden Clean Up
Helping homeowners have a beautiful garden so they can have the time to stop and smell their roses.
Higher Ground Gardens provides ongoing garden care including hedge trimming, garden design and landscape installations. Our customers love our specialty: spring and fall garden clean ups.
Higher Ground Gardens can clean up your garden and yard usually within one day.
Event Gardening
Have a big event you are hosting at your house? Feel overwhelmed by a messy or underwhelming garden? Get ready for big events and holidays with a garden clean up and planting service to add colour to your gardens before a big celebration. Combine a detailed garden clean up with a fresh layer of composted bark mulch, planting, pops of seasonal colour, designer containers with brand new plants – et voila! Your guests will love what you've done with the garden.
Our clients have hired us to get their gardens "party ready" for weddings, holiday parties, Rosh Hashana, Christmas, New Year's, birthdays and real estate listings.
Bark Mulch Installation
Make your Garden Look great. You will love it and your neighbours will notice. Higher Ground Gardens can install bark mulch in your garden beds as part of a garden clean up.
Bark mulch saves you time and money:
Mulch keeps the weeds down so you don't have to maintain your yard as often:
Suppresses weed growth
Keeps soil moist and plants greener
Keeps landscape appearance clean
Natural fertilizer for plants
Save yourself money and make your garden happy and beautiful.
Planting
New plantings for every garden. 
Our team of horticulturists carefully select new plants to suit your favourite colour scheme, while choosing the right plants for the right place. Have a hot, dry garden? Choose drought tolerant plants for your garden. Have a wet, boggy section of your yard? You will love these water-loving flowering plants that will thrive where others have withered. In spring, our team will plant bright, colourful flowering annuals in your garden. In fall, plant daffodils for a spring-time show. 
Pressure Washing
A professional pressure washing service is your solution for clean concrete, sidewalks, steps, patios and tennis courts.
Living on the West Side of Vancouver you know how wet it can stay here and how quickly moss and mildew can build up. Dirt, mud, mould, moss and mildew are the most common offenders on our sidewalks, creating dangerously slippery surfaces that can become a liability if left uncared for.
The top 3 reasons for using a pressure washing service in Vancouver are:
Removing slippery moss and mildew build-ups to prevent slipping injuries
Reducing long-term home costs due to rot from mould build up
Improving curb appeal and neighbourly relations
The most important areas to use a pressure washing service are on your front and back sidewalks, for driveway cleaning as well as any stairs and steps. It is recommended that your decks, patios or wooden fences also be done every one to two years.
You have decided you are ready to hire a professional pressure washing service for your exterior surfaces or driveway cleaning then Higher Ground Gardens is here to help solve your problems.
Our equipment and technicians are top of the line, so that we can get the job done professionally.
Depending on the specific details of the work we can provide you with a high- pressure or low-pressure cleaning service
For paver stone driveways, we can also install new sand into the cracks between the pavers. This keeps pavers in place and helps to reduce weeds.
We also use specialized surface spinners designed to maximize cleaning on flat surfaces including concrete, paving stones, exposed aggregate and asphalt
We use environmental products in all of our detailed cleaning processes
The end result is a stress-free homeowner with a clean, beautiful and safe property
Call us now to have us come and have a look at your pressure washing needs and provide you with an estimate on the spot. You can then decide which pressure washing service package best suits your needs and we will schedule your service for the next available work date.
Let's Get Started on Your Garden Today
Helping homeowners have a beautiful garden so they have time to stop and smell the roses. Our team at Higher Ground Gardens would love to hear from you.